A global flooring market report 2022-2030 projects the overall the market will continue to expand due technological advancements in materials and application, coupled with increased spending.
Grand View Research Inc.  based in San Francisco, CA has released its Flooring Market Size, Share & Trends Analysis Report By Product (Ceramic Tiles, Porcelain Tiles, Carpet, Vinyl, Luxury Vinyl Tile (LVT), Linoleum & Rubber), By Application, By Type, By Region, And Segment Forecasts, 2022 – 2030 report.
The report states that the global flooring market size was estimated at USD 257.92 billion in 2021 and is expected to register a growth of 5.6% during the forecast period. The market is expected to be driven by increased global spending on infrastructure coupled with the growing world population.
Global Flooring Market 2022-2030 – Report Insights
The rising population in developing countries has contributed to the growth of the flooring industry in conjunction with fast-paced infrastructural development. Growing disposable income has resulted in increased investments in residential buildings and is also propelling the growth of the flooring industry.
The advancement in application and installation techniques, innovative construction solutions which are continually hitting the market, and rising demand for sustainable products is expected to further drive industry growth. Regulations on  production, usage, implementation, and recycling requirements is also expected to boost market growth.
Moreover, consumer preferences for aesthetically improved designs, textures, & colors and low-maintenance & easy-to-install floorings are anticipated to ascend the market growth. For more information on some of the leading types of commercial products click here.
The rising need for privacy and acoustics has spurred the demand for insulation across the flooring market. For more information on our recent article regarding flooring and acoustics click here. This has resulted in the growing demand for insulation, thereby supporting market growth.
Global Flooring Market 2022-2030 – Product Insights
Porcelain tiles led the market and accounted for 27.6% of revenue share in 2021. Porcelain tiles are stronger and more durable as compared to general ceramic tiles as they are fired at extreme temperatures and are made from denser clays which makes them more durable.
Features such as mold and bacteria resistance offered by impervious porcelain tiles lead to long-term value in floor covering. Porcleain tile is not only strong but easy to maintain.
The ceramic tiles segment accounted for 22.4% of the total revenue share in 2021. Ceramic tiles primarily consist of three types – glazed tiles, unglazed tiles, and scratch-resistant tiles.
The wood & laminate segment was estimated at USD 50,213.2 Million in 2021 and is further estimated to grow with a substantial CAGR in the coming years. This growth is attributed to rising significance of wood in luxury construction in residential as well as commercial areas. The advantages of wood include durability, ease of maintenance, a range of finish options, acoustical values and improved air quality.
While natural stone is more expensive as compared to other flooring products it is widely used for durability, aesthetics, and long-term value for investment.
Global Flooring Market 2022-2030 – Application Insights
The commercial application segment accounted for 43.1% of the revenue share in 2021. Commercial applications are subject to high traffic areas, and therefore require durable flooring such as resilient and wood. Flooring products are used in numerous commercial building applications from corporate offices to large and small retail stores.
Increasing construction of commercial buildings, such as drugstores, grocery, and big-box stores, over the past few years, is expected to benefit the segment growth over the coming years. Moreover, robust demand for office spaces, especially in urban areas of emerging economies, is also propelling demand for high-quality flooring products.
Global Flooring Market 2022-2030 – Regional Insights
The Asia Pacific region dominated the market and accounted for 44.96% of the total share in 2021. The regional market is expected to expand at a CAGR of 6.3% during the forecast period. Factors such as increasing investment in affordable housing, smart city construction, upgradation and construction of infrastructure, and investment in the tourism sector are expected to boost the demand for flooring products in the forecast period.
Construction industry in Asia Pacific is expected to grow on account of the rising per capita income, rapid urbanization, and expanding population. The expansion of residential, commercial, and industrial sector sustainable economic growth is expected to boost construction activities, thereby, driving the market for flooring in the forecast period in this sector.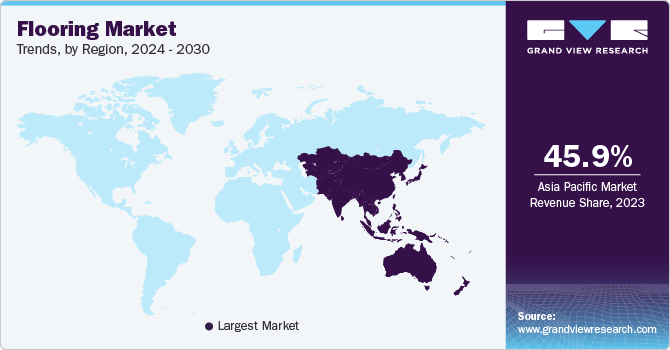 To learn more about this report, request a free sample copy
The Central & South American flooring market is anticipated to witness sluggish growth compared to other regions worldwide over the coming years. The construction spending in the region witnessed a steep decline in 2020 owing to the pandemic. Although the spending surged in 2021, its pace is anticipated to decelerate in 2022.
The flooring industry in Middle East and Africa was accounted for 11.43% in 2021. Improved funding by the Middle East and African governments, owing to the availability of financing options such as public-private partnerships, domestic capital markets, and private investment funds, is expected to boost the growth of the construction industry, thereby, driving the flooring industry in the region.
Key Companies & Market Share Insights
Technological advancements, R+D, coupled with new trends in floor designs and construction solutions have driven the overall market. There are a variety of market players and each of these companies offer a variety of products for residential, commercial, and industrial applications. Several manufacturers are engaged in research & development activities to introduce sustainable flooring materials.
Some of the prominent players cited in the global flooring market include:
For  more information regarding Grand View Research's methodology please click here.
To see related articles regarding commercial flooring trends please click here.
For more information about flooring installation solutions please contact us here.